تذكير التشغيل الأساسية
بيع البند غير مسجل (49.9 $، الدفع نقدا)


>

>

>

>

>

بيع البند غير مسجل تصنف في قسم
(18 € في Deptartment 2، دفع بطاقة الائتمان)

>

>

>

>

بيع بسيط من عنصر المسجلين
(3X البند 1، والتحقق من دفع)

>

>

>

بيع بند المسجل، مع دفع نقود
(دفع البند 3 مع ملاحظة 10 $)

>

>

>

>

استرداد عنصر المسجلين
(مبلغ نقدي من البند 2)

>

>

خصم على ما مجموعه
(خصم 10٪ على (البند 2 + البند 3))

>

>

>

>

>

حزمة / القائمة بيع
(البند 4 + البند 6 في قائمة 10 $)

>

>

>

>

البيع البسيط
حدد القسم
انقر على أحد الأزرار لعرض عناصر من هذه الدائرة. لإزالة عامل التصفية، اضغط ESC. إذا هي صفحات متعددة من المنتجات المتاحة، وزر المقبل يسمح لك للتنقل عبر صفحات النطاق المحدد حاليا.
حدد عنصر
انقر فوق الزر لإضافة عنصر إلى أجل الحالي.
إذا تباع سلع متعددة، أولا إدخال عدد من المواد المطلوبة، ثم اضغط على زر البند المقابل ل.
إذا تم بيع هذا البند في الوزن، أولا تحديد الوزن باستخدام لوحة المفاتيح الرقمية، ومن ثم انقر فوق الزر العنصر.

اختر طريقة الدفع
اختيار طريقة الدفع على يمين لوحة المفاتيح.
ملحوظة: اختيار طريقة الدفع دون إدخال المبلغ المدفوع، ثم دفع يعتبر نقدا.

بيع مع التغيير
حدد عنصر
انقر على أحد الأزرار لعرض عناصر من هذه الدائرة. لإزالة عامل التصفية، اضغط ESC. إذا هي صفحات متعددة من المنتجات المتاحة، وزر المقبل يسمح لك للتنقل عبر صفحات النطاق المحدد حاليا.
حدد السعر المدفوع
انقر فوق الزر لإضافة عنصر إلى أجل الحالي.
إذا تباع سلع متعددة، أولا إدخال عدد من المواد المطلوبة، ثم اضغط على زر البند المقابل ل.
إذا تم بيع هذا البند في الوزن، أولا تحديد الوزن باستخدام لوحة المفاتيح الرقمية، ومن ثم انقر فوق الزر العنصر.

حدد المبلغ المدفوع وطريقة الدفع
استخدام لوحة المفاتيح الرقمية على الجهة اليسرى من لوحة المفاتيح، أدخل المبلغ المدفوع. اختيار طريقة الدفع على يمين لوحة المفاتيح. ملحوظة: اختيار طريقة الدفع دون إدخال المبلغ المدفوع، ثم دفع يعتبر نقدا. ويبدو أن المبلغ المتبقي الواجب دفعه في نهاية الاستلام وعلى عرض رقمي لتسجيل النقدية.
دفع جزء من المال
حدد العناصر
حدد العناصر التي سوف تظهر في الترتيب.
حدد العناصر المدفوعة
بالضغط على غرار استلام، يمكنك تحديد العناصر لدفع جزء من النظام.
يتم عرض السعر الإجمالي للعناصر المختارة على الشاشة الرقمية.
آخر فوق على عنصر يمكن إزالته من قائمة العناصر التي تدفع.
وأخيرا حدد المبلغ المدفوع، وطريقة الدفع.
حدد المبلغ المدفوع وطريقة الدفع
استخدام لوحة المفاتيح الرقمية على الجهة اليسرى من لوحة المفاتيح، أدخل المبلغ المدفوع. اختيار طريقة الدفع على يمين لوحة المفاتيح. ملحوظة: اختيار طريقة الدفع دون إدخال المبلغ المدفوع، ثم دفع يعتبر نقدا. ويبدو أن المبلغ المتبقي الواجب دفعه في نهاية الاستلام وعلى عرض رقمي لتسجيل النقدية.
بيع البند غير مسجل
حدد / احسب سعر القطعة
لتسجيل بيع بند غير المسجلين، أدخل الأسعار مع لوحة المفاتيح الرقمية.
إذا بيعت عدة وحدات أو إذا تم بيع هذا البند في الوزن، واستخدام مفتاح "الضرب" من لوحة المفاتيح.
Optionnal: اختر قسم
انقر على القسم الذي سوف يتم تسجيل هذا البند
حدد المبلغ المدفوع وطريقة الدفع
استخدام لوحة المفاتيح الرقمية على الجهة اليسرى من لوحة المفاتيح، أدخل المبلغ المدفوع. اختيار طريقة الدفع على يمين لوحة المفاتيح. ملحوظة: اختيار طريقة الدفع دون إدخال المبلغ المدفوع، ثم دفع يعتبر نقدا. ويبدو أن المبلغ المتبقي الواجب دفعه في نهاية الاستلام وعلى عرض رقمي لتسجيل النقدية.
تطبيق الخصم
تطبيق الخصم على البند
بعد إضافة هذا البند إلى النظام، انقر على الخصم الذي تريد تطبيقه، من جانب كتلة الخصم من لوحة المفاتيح.
تطبيق خصم على العناصر المحددة
إذا كنت بحاجة إلى ذلك، يمكنك تحديد العناصر على الاستلام، ثم تطبيق الخصم من أجل تطبيق التخفيض فقط على العناصر المحددة.
تجاوز سعر مجموعه القيادة
تجاوز السعر الاجمالي للقيادة تمكنك من تجاوز أسعار مجموعة من العناصر إلى قيمة معينة (بغض النظر عن سعر البند الفردية).
أيضا مع هذه الوظيفة يمكنك جعل سعر ثابت لمجموعة من البنود كما حزمة الترويجي (على سبيل المثال سعر القائمة التي تحتوي على أطباق متنوعة الثابتة).
من أجل اقامة كمية سعر ثابت، عليك أولا أن إنشاء الخصم وتوفير قيمة لحقل "مبلغ ثابت".
عند ستطبق هذا النوع من الخصم لطلبية، سيتم تغيير السعر الإجمالي للنظام لسعر ثابت المنصوص عليها في الخصم.
يمكنك بعد ذلك إضافة العناصر الأخرى التي لن يتم تضمينها في سعر المبلغ المحدد البند الثابتة و.
جعل استرداد
لجعل استرداد، يجب أن يكون لديك حقوق مسؤول أو مدير.
رد بسيط
من أجل القيام برد بسيط من مبلغ معروف، أدخل المبلغ من رد على لوحة المفاتيح الرقمية، ثم اختيار طريقة الدفع للحصول على رد.
سيتم عرض المبلغ المعاد باللون الأحمر على استلام ويتم تسجيل عملية البيع من قيمة سالبة لليوم الحالي.
استرداد العناصر المسجلة
أن يرد بند المسجل، اختياريا حدد قسم، ثم حدد العنصر المطلوب.
لإنهاء دخول عناصر ردها، أدخل طريقة رد مع كتلة نوع دفع من لوحة المفاتيح.
انتقل إلى استرداد كامل أمر
من أجل استرداد النظام، عليك أولا أن تحميله من صفحة التاريخ.
ثم اختر على لوحة المفاتيح طريقة استرداد تريد (بطاقة الائتمان، والنقدية، ...).
يتم إنشاء نظام جديد في الوقت الحالي، تحتوي على جميع العناصر من أجل السابق، ولكن مع كمية السلبي.
انتقل إلى استرداد جزئي من أجل
من أجل استرداد النظام، عليك أولا أن تحميله من صفحة التاريخ.
وحدد على إيصال العناصر التي تريد استرداد.
ثم اختر على لوحة المفاتيح طريقة استرداد تريد (بطاقة الائتمان، والنقدية، ...).
يتم إنشاء نظام جديد في الوقت الحالي، التي تحتوي على العناصر التي حددتها من أجل السابق، ولكن مع كمية السلبي.
إلغاء اختيار البند الحالية أو الأمر الحالي
على زر "ESC" لإلغاء العملية الحالية.
ويمكن أن يكون على عدة مستويات:
- إذا كان يتم إدخالها مبلغ في لوحة المفاتيح، يتم حذفه
- خلاف ذلك، إذا تم إدخال مضاعف في لوحة المفاتيح، وتهيئته ل1
- خلاف ذلك، إذا تم تطبيق عامل تصفية على الإدارات، يتم حذفه
- إلا إذا يؤكد المستخدم، يتم إلغاء الأمر الحالي

يمكن إلغاء أمر إلا إذا تم بالفعل شرع دفع كنت.
في هذه الحالة قد ترغب في استرداد النظام (انظر القسم مساعدة برد)
طباعة إيصال
باستخدام الكمبيوتر (ماك، وأجهزة الكمبيوتر، ...)
من أجل طباعة إيصال، ببساطة انقر على زر "استلام طباعة".
تتم طباعة تذكرة كما يظهر في "استلام" مربع.
ويمكن أن يكون إما استلام الحالي أو استلام ترتيب معين، عند عرض عبر التاريخ الأوامر.
يتم اكتشاف الطابعات المثبتة على النظام الخاص بك (ويندوز، ماك، ...) تلقائيا، فإنه ليس من الضروري إجراء تثبيت معين في تسجيل النقدية.
يرجى تذكير وضع هوامش على متصفحك، في الهامش وعرض صفحة الخيار.
استخدام لوحة اللمس أو الهاتف الذكي (IOS، الروبوت، ...)
على الأجهزة النقالة (touchpads، والهواتف الذكية)، تحتاج إلى استخدام الخيار للطباعة في السحاب من Google، ولديك طابعة متوافقة جوجل سحابة (انظر "جوجل سحابة الطباعة" في جوجل لمزيد من المعلومات).
ثم في صفحة الإعداد، الإجراءات، ببساطة إضافة "جوجل للطباعة في السحاب" عمل إلى قائمة العمل. ثم سترى خيار للطباعة في السحاب من Google في لوحة المفاتيح من تسجيل النقدية.
التخصيص من الإيصالات
إذا ذهبت إلى صفحة إعداد عامة، وسوف تكون قادرة على إعداد صورة رأس الإيصالات الخاصة بك. هذه الصورة يمكن أن يكون PNG، JPG أو ملف GIF، يمكن أن يكون حجمها حجم بحيث تكون الصورة من شأنه أن يصلح في مستطيل 350x80px. في نفس هذه الصفحة يمكنك أيضا إعداد رأس وتذييل النص من الإيصالات الخاصة بك.
KKmoon POS-5802DD Receipt printer
This printer can only work using our android or iOs app from the app store or the play store.
Play store address
The printer can only work in bluetooth and needs tobe paired to your device, then it will be automatically detected in our software, no setup is needed. However, if you have multiple printers, you can go to Setup, Receipt page in order to select the desired bluetooth device.
If you use the KKmon printer, you might have to change the charset of the printer to match your local charset.
Drivers KKmoon POS-5802DD
).
The European charset is named PC437(Std.Europe)(1).
افتتاح تسجيل النقدية
قبل فتح نقطة بيع الخاص بك:
- دخول إلى تسجيل النقدية
- التحقق من ورق في الطابعة
- انتقل إلى صفحة "المبيعات"
- انقر على "تسجيل النقدية المفتوح"
- تعبئة الرصيد النقدي الحالي

وثيقة تسجيل النقدية
- انتقل إلى "المبيعات" الصفحة واختر "إغلاق تسجيل النقدية"
- أدخل المبلغ النقدي في تسجيل النقدية
- ترك السيولة اللازمة لافتتاح المقبل
- التحقق من إجمالي الشيكات، CB
- قم بفصل تسجيل النقدية
- وضع المال في مكان آمن

عرض النشاط بيع الخاص بك
لعرض تقارير المبيعات، انتقل إلى صفحة التاريخ.
تعرض هذه الصفحة تاريخ مبيعات اليوم.
انقر على خط التاريخ لإظهار استلام هذا النظام، مع تفاصيل البنود المرفقة. افتراضيا، يظهر تاريخ اليوم الحالي، ولكن يمكنك أيضا عرض التاريخ من أيام السابقة باستخدام الملاحة الموجود في رأس الجدول.

إضافة ملاحظات على البند
هذه الميزة تسمح لك تعديل عنوان البند أمر ل.
من أجل تفعيل هذه الميزة، تحتاج إلى التحقق من الخيار في تكوين الصفحة الأصناف.
خلال النظام، وسوف يصبح من الممكن النقر المزدوج على عنصر مباشرة على الاستلام، من أجل أن تكون قادرة على تحريره وإضافة توضيحات.
وهذه العملية فقط تعديل عنوان هذا البند، في هذا ترتيب معين، ولكن لن يتغير سعر هذا البند.
وتهدف هذه الميزة لتدوين الملاحظات على بند معين (على سبيل المثال: البيتزا بدون الفطر).
Weighing equipment
If you need to sell items that needs to be weighed, you can connect a balance/scale to our software.
This device (available in the Shop page) can transfer the measured weight to our software on demand.
You need to connect the device to a Windows computer, then install the software that is provided with the scale or download it at :
www.myweigh.com/ultrasoftware.
تقسيم أمر
إذا زبائنك أمروا مثل مجموعة، يمكنك تقسيم النظام قبل معالجة الدفع من أجل الحصول على إيصالات منفصلة.
متاح فقط هذا الإجراء إذا لم يتم التحقق من صحة الأمر بعد.
من أجل تحديد العناصر من النظام الذي تريد تقسيم APPART، انقر مباشرة على خطوط المقابلة للاستلام.
عندما يتم اختيارك، انقر فوق زر أمر جديد.
العناصر التي حددتها هي الآن جزء من النظام الجديد، مع فاتورتها مخصصة، كما تم إزالة العناصر المحددة من الدرجة الأولى.
Send quotations or invoices
It is possible to send an invoice or a quotation using several methods: post mail, electronic mail or SMS.
If the order has not been validated, a quote is sent, otherwise an invoice.
In order to send an invoice to the customer, simply press the corresponding sending button at the bottom of the ticket among the quick action buttons, or the action button in the main interface.
It is possible to activate in the setup page an option in order to automatically send invoice when an order is validated.
You can add "Send by SMS", "Send by mail", "Send by email" action buttons in the action setup page of the software.
The sending of the invoices by SMS and by automated post mail requires credits you can buy in account page.
If a customer account is attached to the order, its details (email, postal address, or phone number) will be used for sending.
The cash register software affixes to the PDF document an numeric signature that garantees authenticity of the document.
الوصول إلى الرسوم البيانية المبيعات
من أجل عرض تقارير المبيعات، لديك للانتقال إلى صفحة "التقارير".

تصدير أوامر "كورقة بيانات
تتوفر 2 نوع الملف من أجل تقرير مبيعات التصدير:
ملف متوافق مايكروسوفت إكسل: اكسل -
- CSV: بالنسبة للبرامج الأخرى
تسرد هذه التقارير عن المبيعات المدفوعة للفترة المختارة ..

تقرير PDF
أن تقارير PDF لك الوصول إلى عدد كبير جدا من التقارير الفرعية والرسوم البيانية للفترة المختارة.
جعل من هذه الملفات طويلا جدا وحدة المعالجة المركزية، ويتم تحديث هذه الملفات فقط بعد فترة معينة من الزمن. يرجى الرجوع إلى التاريخ المبين على تقرير من أجل التحقق من تقرير تاريخ جيل.
إذا كانت الفترة الزمنية المحددة قد انتهت، ثم التقرير لن يتغير مرة أخرى، لذلك يتم اعتماد الملف مع مفتاح التشفير لضمان أنه لم يتم تغيير الملف.
ويمكن استخدام هذه الوثيقة أأ دليلا على الاستقامة.

SAF-T التصدير
ملفات SAF-T والمحاسبة تقارير مصممة للمحاسب أو الخدمات المالية.
SAF-T (ملف التدقيق القياسية للضريبة) هو معيار دولي لتبادل الإلكتروني للبيانات محاسبية يمكن الاعتماد عليها من المنظمات لمصلحة الضرائب الوطنية أو المدققين الخارجيين.
يتم تعريف معيار من قبل منظمة التعاون الاقتصادي والتنمية (OECD).
يمكنك استخدام البرمجيات لعرض تقارير SAF-T مثل SAF-T محلل .
من أجل التحقق من صحة وصلاحية الملفات SAF-T، يمكنك استخدام لدينا المفتاح العمومي التشفير .
التفضيلات العامة
للوصول إلى هذه الصفحة، يجب أن يكون لديك حقوق المسؤول.
للوصول إلى صفحة التكوين العام، انتقل إلى صفحة SETUP ثم على "خيارات عامة"
ضمن هذه الصفحة، يمكنك تغيير اسم المحل، ونقاط البيع الصغيرة افتراضيا، ونوع ضريبة القيمة المضافة الافتراضي (بين أنواع ضريبة القيمة المضافة تكوين) لحساب الضريبة على القيمة المضافة *، وأيضا تعيين رأس وتذييل الصفحة من الإيصالات الصادرة عن السجل النقدي.
* يمكن تضمين طريقة حساب ضريبة القيمة المضافة أو استبعادها.
إذا تم تضمين ضريبة القيمة المضافة، ثم سيتم النظر في أسعار دخل بما في ذلك ضريبة القيمة المضافة.
في هذه الصفحة يمكنك أيضا إعداد دفع باي بال (انظر صفحات المساعدة منهما)، والإعداد الوقت إغلاق المحل والتوقيت الخاص بك.
خيار بطاقة الهوية هو عندما تريد البائعين لديها لكتابة رقم بطاقة الهوية المرفقة من الأمر عندما طريقة الدفع الاختيار.
وسوف تستخدم العملة في جميع البرامج. إذا كنت بحاجة إلى استخدام عدة عملات، لديك لإنشاء حساب seccond.

Setup variations of items
In order to setup this feature, you need admin rights.
You have to first enable this feature and subscribe to an advanced premium licence.
Enabling this features can be done in the Setup, General Options, Orders page, in the part named "Items".
One this feature enabled, a new entry appears in the Setup menu, called Variations.
In this page, you need to first add a first set of variations, then list all the variations belonging to this set.
For example, the set of variations "Size" can contain the following variations : "S", "M", "L", "XL", "XXL".
Once you have added a set of variations, you have to click on the column Detail of the variation in order to edit the list of the variations.
Variations can have a title, an image, a position, and a price modificator.
Items can only be associated to one single variation.
You will then need to select which of your items or departments will have the variation choice enabled.
This can be set up in the Items setup page, or departments setup page.
إنشاء وحدات
للقيام بذلك، يجب أن يكون لديك حقوق المسؤول.
للوصول إلى صفحة عناصر التكوين، انتقل إلى القائمة "تكوين"، ثم "عناصر".
إضافة عنصر جديد
من أجل إضافة بند جديد إلى القائمة، انقر على زر "إضافة" في الجزء العلوي من الجدول. ثم ملء الحقول المعروضة في النافذة التي تظهر.
تعديل عنصر موجود
لتحرير المادة الموجودة، انقر نقرا مزدوجا فوق الحقل الذي تريد تحريره.
عندما التغييرات كاملة، اضغط Enter لتأكيد الدخول.
يتم حفظ التغييرات لكل تغيير المجال.
لتغيير الصورة من عنصر موجود، انقر على الصورة وقم بتعبئة النموذج الناتج.
معنى مختلف المجالات
- الاسم: اسم العنصر كما يظهر على استلام وعلى لوحة المفاتيح - ضريبة القيمة المضافة: معدل ضريبة القيمة المضافة التي تطبق لهذا البند. إذا تم تحديد "قسم" (الافتراضي)، يتم تكوين ضريبة القيمة المضافة في الوزارة. - الخصم: الخصم الذي يطبق لهذا البند. إذا تم تحديد "إدارة" تم تكوين (الافتراضي) خصم الدائرة. - السعر: سعر هذا البند - الدائرة: departmentin التي ينتمي إليها هذا البند - صورة: الصورة التي يتم عرضها على المفتاح على تسجيل النقدية - موقف ومن الدخول على لوحة المفاتيح. كما يمكنك سحب وإسقاط خط لتغيير ترتيب العرض.
إدارة سعر الشراء
سوف تفعيل ميزة إدارة سعر شراء في صفحة الخيار العامة تمكنك من توفير ثمن شراء لالبنود الخاصة بك. سوف تتيح التقارير الصادرة تحصل الأرقام حول الفوائد التي أجريتها على المبيعات.
إنشاء الإدارات
للقيام بذلك، يجب أن يكون لديك حقوق المسؤول.
للوصول إلى صفحة تكوين الإدارات، انتقل إلى "الإعداد"، ثم القائمة الفرعية "أقسام"
إضافة قسم جديد
لإضافة قسم جديد إلى القائمة، انقر على زر "إضافة" في الجزء العلوي من الجدول. ثم ملء الحقول المعروضة في النافذة التي تظهر.
تعديل على قسم موجود
من أجل تحرير قسم القائمة، انقر نقرا مزدوجا فوق الحقل الذي تريد تحريره.
عندما التغييرات كاملة، اضغط Enter لتأكيد الدخول.
يتم حفظ التغييرات لكل تغيير المجال.
لتغيير الصورة من عنصر موجود، انقر على الصورة وقم بتعبئة النموذج الناتج.
معنى مختلف المجالات
- الاسم: اسم الدائرة بحيث يظهر على استلام وعلى لوحة المفاتيح
- الضريبة على القيمة المضافة: معدل ضريبة القيمة المضافة التي ينطبق افتراضيا إلى عناصر قسم
- الخصم: الخصم الذي ينطبق افتراضيا إلى عناصر قسم
- صورة: الصورة التي يتم عرضها على المفتاح على تسجيل النقدية
إنشاء المستخدمين
للقيام بذلك، يجب أن يكون لديك حقوق المسؤول.
للوصول إلى تكوين المستخدم، انتقل إلى القائمة "الإعداد" ثم على "المستخدمون"
إضافة مستخدم جديد
من أجل إضافة مستخدم جديد إلى القائمة، انقر فوق الزر "إضافة" في الجزء العلوي من الجدول.
ثم ملء الحقول المعروضة في النافذة التي تظهر.
تعديل مستخدم موجود
لتحرير مستخدم موجود، انقر نقرا مزدوجا فوق الحقل الذي تريد تحريره.
عندما التغييرات كاملة، اضغط Enter لتأكيد الدخول.
يتم حفظ التغييرات لكل تغيير المجال.

معنى مختلف المجالات
- الاسم: اسم المستخدم كما هو معروض على الإيصال، وتستخدم لتحديد الحساب
- PW: كلمة المرور للمستخدم
- الحقوق: الحقوق الممنوحة للمستخدم: مدير، مدير، أو موظف. اعتمادا على الحقوق الممنوحة، وسيكون المستخدم قادرا على الوصول إلى وظائف معينة من تسجيل النقدية.
- TTC (غير قابلة للتحرير): إجمالي الوقت على اتصال مع حساب
- الملكية الفكرية (وليس للتحرير): إن آخر عنوان IP معروفة للمستخدم
- مظهر آخر (غير قابلة للتعديل): تاريخ وجود مستخدم آخر
- إجمالي المبيعات (وليس للتحرير): مجموع المبيعات التراكمية التي أدلى بها للمستخدم
إنشاء أحواض
للقيام بذلك، يجب أن يكون لديك حقوق المسؤول.
للوصول إلى تكوين ضريبة القيمة المضافة، انتقل إلى القائمة "الإعداد" ثم على "ضريبة القيمة المضافة"
إضافة ضريبة القيمة المضافة جديد
لإضافة سعر جديد لضريبة القيمة المضافة إلى القائمة، انقر على زر "إضافة" في الجزء العلوي من الصورة.
ثم ملء الحقول المعروضة في النافذة التي تظهر.
تعديل على الضريبة على القيمة المضافة الحالية
لتعديل معدل ضريبة القيمة المضافة القائمة، انقر نقرا مزدوجا فوق الحقل الذي تريد تحريره.
عندما التغييرات كاملة، اضغط Enter لتأكيد الدخول.
يتم حفظ التغييرات لكل تغيير المجال.

معنى مختلف المجالات
- الاسم: اسم ضريبة القيمة المضافة كما هو معروض على استلام وعلى لوحة المفاتيح
- القيمة: قيمة معدل الضريبة
VAT margin schemes
VAT margin schemes tax the difference between what you paid for an item and what you sold it for, rather than the full selling price. You pay VAT at 16.67% (one-sixth) on the difference.
You can choose to use a margin scheme when you sell:
- second-hand goods
- works of art
- antiques
- collectors' items
In order to use VAT margin schemes, you need to enable Buying prices feature.
Then you need to add a new VAT and choose the type "VAR margin scheme" for this new VAT.
Please don't forget to type in legal mentions for that VAT.
If the buying price is greater that the selling price, no VAT is applied for the item.
تخفيض / ملاحق / بالأسعار الثابتة
للقيام بذلك، يجب أن يكون لديك حقوق المسؤول.
للوصول إلى تكوين الخصومات، انتقل إلى "الإعداد"، ثم القائمة الفرعية "تخفيضات / ملاحق"
مضيفا خصم / تكملة / السعر الجديد الثابتة
لإضافة أأ جديد خصم / تكملة / سعر ثابت لهذه القائمة، انقر على زر "إضافة" في الجزء العلوي من الصورة.
ثم ملء الحقول المعروضة في النافذة التي تظهر.
تعديل على خصم / تكملة / سعر ثابت الحالية
من أجل تحرير الخصم / تكملة / سعر ثابت القائمة، انقر نقرا مزدوجا فوق الحقل الذي تريد تحريره.
عندما التغييرات كاملة، اضغط Enter لتأكيد التغيير.
يتم حفظ التغييرات لكل تغيير المجال.

معنى مختلف المجالات
- الاسم: اسم الخصم كما هو معروض على استلام وعلى لوحة المفاتيح
- القيمة: قيمة النسبة المئوية للخصم
- المبلغ: مبلغ ثابت من الخصم، إذا تم تكوين نسبة أيضا، والذي سيتم تطبيقه لأول مرة.
- السعر ثابت: سعر ثابت التي ستتأثر للنظام الحالي (انظر منع أمر السعر الإجمالي).
الإجراءات / وسائل الدفع
للقيام بذلك، يجب أن يكون لديك حقوق المسؤول.
للوصول إلى صفحة تكوين الإجراءات، انتقل إلى "إعدادات"، ثم تحت قائمة "الأعمال"
إضافة عمل جديد
لإضافة خطوة جديدة إلى القائمة، انقر على زر "إضافة" في الجزء العلوي من الجدول.
ثم ملء الحقول المعروضة في النافذة التي تظهر.
تعديل إجراء قائم
لتحرير العمل القائمة، انقر نقرا مزدوجا فوق الحقل الذي تريد تحريره.
عندما التغييرات كاملة، اضغط Enter لتأكيد التغيير.
يتم حفظ التغييرات لكل تغيير المجال.

معنى مختلف المجالات
- الاسم: الاسم كما هو معروض على استلام وعلى لوحة المفاتيح
- موقف ومن الدخول على لوحة المفاتيح. كما يمكنك سحب وإسقاط خط لتغيير ترتيب العرض.
- النوع: نوع من العمل.

أنواع بمختلف الإجراءات
يتم إصلاح هذه الأنواع: نقدا، وبطاقات الائتمان، شيك، استرداد النقدية، CB رد، تحقق استرداد
نوع يؤثر على معالجة هذه الصفقة، وإجراءات استرداد ليست متاحة للموظفين، ولكن فقط للمدراء ومشرفي.
بعض أنواع هي خاصة:
- طباعة تذكرة: تكوين هذا العمل الذي يقوم بتشغيل طباعة الإيصال الحالي
- المجموع الفرعي: يسمح الإجمالي فرعي من النظام
- الأمر جديد: يسمح لإيقاف النظام الحالي وتبدأ من جديد

إنشاء آلات تسجيل النقد
للقيام بذلك، يجب أن يكون لديك حقوق المسؤول.
للوصول إلى تكوين آلات تسجيل النقد، انتقل إلى القائمة "الإعداد" ثم على "آلات تسجيل النقد"
إضافة نقاط البيع الجديد
لإضافة نقاط البيع جديد إلى القائمة، انقر على زر "إضافة" في الجزء العلوي من الجدول.
ثم ملء الحقول المعروضة في النافذة التي تظهر.
تعديل على نقاط البيع الموجودة
لتحرير نقاط البيع الموجودة، انقر نقرا مزدوجا فوق الحقل الذي تريد تحريره.
عندما التغييرات كاملة، اضغط Enter لتأكيد الدخول.
يتم حفظ التغييرات لكل تغيير المجال.

معنى مختلف المجالات
- الاسم: اسم الصندوق كما هو معروض على إيصال
- صندوق النقد بيتي: مبلغ من المال اليسار في نقاط البيع لافتتاح المقبل
- الرصيد: المبلغ الحالي من النقد في الصندوق
- تاريخ الإنشاء: تاريخ إنشاء نقاط البيع
- الدولة: الدولة من نقاط البيع: مفتوحة أو مغلقة (صندوق مغلق قد لا يكون النشاط)
- الدولة تغيير: التاريخ والوقت عندما تم فتح قضية / مغلق للمرة الأخيرة

Configurer le fond de caisse
In order to change the default petty cashbox amount that your employees will have to leave in the cashbox on closure, you need to go to Setup page, then Payment tab.
Setup payment methods
Setting up credit card payments with SumUp
SumUp is the solution that fits best our point of sale software. The amount to be paid is automatically transfered from our software to the payment device, you just have to insert the customer's credit card andlet him type his PIN code (if necessary).
In order to set up SumUp payment on Android or iOs, you just need to install our application from the playstore or the App store, then install SumUp application. The software will detect SumUp and add new action buttons.
The success or failure of the transaction will also be automatically transfered to the software.
Setup smartphone payments with Lydia
Lydia is the best solution if you want to save time !
When processing payment, in a single clic, you can ask for the payment of the right amount on your client's smartphone.
Your client only needs then to accept or refuse the payment.
No physical contact is necessary, not even the physical presence of your client !
You can then record the order of your client and ask for payment in advance and your client only needs to accept the payment on his way to get the product.
How to setup Lydia payment solution ? From the Setup page, General options, Payment, you can enable the option "Lydia payment".
This will make new options appear and a button in order to ask for an account creation on Lydia.
This button will use the email, address, phone number you provided in the software in order to ask Lydia to create an account for you.
Lydia will then send an email to you containing the following instructions in order to activate your account.
Using this button will give you private and public tokens that are automatically filled into the setup options, just save in order to keep this information.
If you already have a Lydia account, you just need to fill in the private and public tokens that have been emailed to you.
When the private and public tokens are saved, this will add two actions on the main cash register layout :
- during an order you can use the "Lydia payment" button in order to ask the client to pay the amount of the order on his smartphone (user must have installed Lydia app)
- "Lydia refund" action lets you make a refund to a client. The money will be automatically sent to the client on his smartphone.
More information : Lydia smartphone payment
Enable online payment with Coinbase Commerce
Coinbase commerce allows you to accept bitcoin payments in your shop, and in the online store made available by our software.
First you must have a Coinbase Commerce account, which can be opened at the following address: https : //commerce.coinbase.com/
            Once your Coinbase commerce account is open, you must go to Coinbase Commerce on the Settings page.
            In this page, you must create an API key, using the "Create API key" button, and enter this API key in the Config, Payments page of our software.
Also on this page, in the "Webhook subscriptions" insert, you must add an endpoint using the "Add an endpoint" button, with the value https://caisse.enregistreuse.fr/NIP_Public_Coinbase_C.php
Still in the "Webhook subscriptions" tab, you must then use the "Show shared secret" button, and enter this parameter in the Config, Payments page of our software.
In our software, you have to go to Config page, Payments, activate Coinbase Commerce payment, then fill in the Coinbase API key and Coinbase API secret fields before saving.
On the configuration page of your store, it is then possible to activate payment by bitcoin so that your customers can make the payment with bitcoins from the online store.

دفع باي بال بطاقة الائتمان
Your Paypal account will then be usable in the cash register interface and in the online shop. In the online shop your customers can enter their credit card number to proceed to the online payment of their order. In the cash register interface, you will need to enter the credit card number to make the payment.
للقيام بذلك، يجب أن يكون لديك حقوق المسؤول.
أن يكون الدفع عن طريق باي بال تفعيلها، يجب أن يكون لديك حساب باي بال.
مرة واحدة حسابك paypal المتاحة، انتقل إلى صفحة "تكوين> متجر" وأدخل معرف حساب التاجر (في باي بال، انتقل إلى "تفضيلات"> "خيارات أكثر".
مرة واحدة تسجيل معرف الحساب الخاص بك، طريقة جديدة للدفع هو متاح في لوحة المفاتيح.
إذا كنت ترغب في الحصول على إشعارات الدفع، يرجى الاتصال بخدمة العملاء لدينا.
Setup credit card payment with bank terminal
In the cash register interface, select the credit card payment method. The total amount to be paid is displayed, it is then necessary to enter this amount on the payment terminal to proceed to the payment of the transaction.
Stock buying prices and suppliers
This module allows you to record your stock orders in the software.
            You can register your stock orders and indicate to the software the reception of the goods so that it integrates the items ordered in the stock.
            This allows you to get better management of your purchase prices as well as your margin.
            The software memorizes each purchase price, and returns in the reports a precise calculation of your margin according to the purchase prices of your goods.
            In this way, you can edit your purchase orders, receipt forms in one click and send them to your suppliers.
Suppliers setup and purchase price management
First, you need to activate supplier management on the Config page, General options, Orders.
            Once this option is activated, a new entry appears in the configuration menu, entitled "Suppliers".
            In this page, you can enter the name, contact details (postal, email, telephone) of your supplier (s), and the default delivery time for this supplier.
Once you have completed the list of your suppliers, you must indicate to the software which products are supplied by one supplier, and which products are supplied by another.             It is possible to set this up for a whole department or for a single product (every product can have a different supplier).             The setup of a department supplier is done on the department setup page, and the setup of supplier by product is done on the items setup page.
            Once these two steps are complete, your setup is complete.
            You can now register supplier orders.
            First of all, you can quickly identify the articles whose stock must be renewed on the cashbox closing page or on the Config, Suppliers, Stocks page.
            This page presents all the products in ascending order of stock, as well as the suppliers associated with the products.
            By clicking on the name of a supplier, you can open the supplier detail window.
            In this window, a "Stock renewal" tab allows you to obtain the list of articles from this supplier.
In this table, for each article of the supplier, you can consult the remaining stock, the stock pending orders, the quantity sold of this stock in the last month, the level of stock from which an alert is sent. < br>             With this information, you can then enter the quantities of products from this supplier that you want to order, as well as the purchase prices of these products, then enter the expected time before delivery, before registering the order.
            When the order is registered, different options are now available to you:
             - Edit an order form to download in PDF, or send the order form by post mail to the supplier's address (automated mailing), or by email.
             - Indicate to the software that the supplier order has been sent.
             - Indicate to the software that the supplier order is well received, in which case the software integrates the products received into your stocks.
             It is then possible to browse the history of supplier orders, to see which products are in transit, for a particular supplier or for every suppliers.
             When the supplier management is activated, it remains possible to manually modify the stock of an article, in such a case, the software considers that the purchase price is the default purchase price of the articles.
             When you make a direct sale, or a sale via the online store, the software will debit the stocks starting with the first received goods, and will debit the other stocks of this product when it runs out.
             If there are items in the stock that are not from a supplier order, the software will debit this stock first.
استيراد وتصدير قوائم المواد
من أجل ربط تسجيل النقدية مع برامج أخرى، وتلقائيا تحديث زائد، والأوراق المالية، سعر الشراء، أو حتى أسماء العناصر.
في صفحة إعداد> عناصر، وسوف تجد 2 أزرار، واحد اسمه "استيراد"، والآخر "تصدير".
على زر تصدير يتيح لك تحميل قائمة من البنود التي تم إعدادها حاليا في تسجيل النقدية.
على زر استيراد يتيح لك استيراد نفس النوع من الملفات يمكنك الحصول عليها من عملية التصدير. يمكنك حذف أو إضافة أو خطوط التحديث في الوثيقة، سيتم الكشف عن تلقائيا. يقوم البرنامج يطلب منك الطقس لأداء حذف، التحديثات، أو الملاحق، وأخيرا تطبيق التغييرات.
Calories management
It is possible in the software to record the calories contained in each article.
The number of calories of each item, as well as the number of total calories of the order will be displayed to the customer on the receipt. To activate the calorie management, you must tick the corresponding option on the Config page, Commands.
Then, you will have to configure the calories of each article in article configuration page.
Accounting chapters management
The accounting chapters management function in this software allows you to fill in your accounting chapters for items, departments, VAT, payment methods and cashboxes, these accounting chapters are then used in reports, as well as in the format of accounting export in CSV.
This feature must be enabled to be used. Activation is done on the Configuration page, General options.
Data to be filled in:
1 / entering an activity code on the articles (example 703 if production - 707 if resale of goods - 0 if the article's accounting code is the one assigned to the department)
2 / entering an activity code on the departments (the value assigned will be used by default for all the items in the department)
3 / Entering an accounting chapter for the groups of departments, the accounting code of an article will be the combination of the activity code and the accounting chapter. If the department groups are not activated, the store's default accounting chapter will be used.
4 / entering an accounting code on the VAT rates
5 / entering an account code according to the payment method (example 582 for checks)
6 / entering a journal code for the accounting export (each case has its journal code)

Once the accounting chapters have been configured, you will be able to obtain a new type of report (on the Report page), called "CSV accounting export".
This report contains one line per item sold with all the mandatory fields (Journal code - Invoice date - Invoice number - Accounting code - Customer - Title - Debit - Credit - Quantity).

Example for a sale on 12/12/2020 of 12 eggs at 1 euros paid in cash for 5 euros - 1 restaurant ticket of 5 euros - 1 blue card of 2 euros under invoice n ° 202012054 to Monsieur dupont with VAT at 5.5%
70; 12/12/2020; 202012054; 702; DUPONT; EGGS; 0.00; 11.37; 12
70; 12/12/2020; 202012054; 445712; DUPONT; VAT5.5%; 0.00; 0.63; 0.0
70; 12/12/2020; 202012054; 53; DUPONT; ESPECE; 5.00; 0.00; 0.00
70; 12/12/2020; 202012054; 583; DUPONT; TICKETRESTO; 5.00; 0.00; 0.00
70; 12/12/2020; 202012054; 584; DUPONT; CARTEBLEU; 2.00; 0.00; 0.00

In addition, in PDF and HTML reports, provided you have activated this table in the report configuration options, you can now obtain a summary table by accounting chapter.
Offline mode
It is possible to use the application without internet connection to prepare your order.
The orders will then be synchronized in the software as soon as you have access to the internet again.
Offline use of our software is currently only possible with our Android app, or using Chrome or Firefox on a computer.
When you have no access to the internet, the software automatically starts offline, but if the internet is connected, the online mode is enabled by default.
In offline mode, only certain functionalities are available, you will only be able to consult your catalog of articles, constitute quotes, consult your customer's notebook.
Invoices can only be sent when you reconnect to the internet and orders will have a unique number when synchronizing.
When you reconnect to the internet after using the offline mode and preparing orders, you will be automatically asked to synchronize these orders, that is to say to send them on the network to import them in database.
Webservices
Webservices are available in this software in order to programatically record sales in the software.
This can be used to record sales made with your own website or software.
In order to use the webservices, you need to purchase an extended licence.
When you enable webservices, a new page becomes visible in the config menu : webservices.
In this page, you can build an example of a query to record a sale, and get you api key.
One order can be recorded in the software with a single call to a particular URL, for example :
/workers/webapp.php?idboutique=ID_SHOP&key=KEYPARAM&payment=ID_PAYMENTMETHOD&deliveryMethod=ID_DELIVERYMETHOD&idUser=ID_USER
&client[nom]=TestClientName&client[prenom]=TestClientSurname&client[email]=contact@testclient.fr&client[pays]=FR
&itemsList[]=-ID_DEPT_1_TestDept
&itemsList[]=ID_ITEM1_1_TestItem&itemsList[]=ID_ITEM2_2_AnotherTestItem
&dateValeur=TIMESTAMP_DATE
You can provide different parameters in the request (you might need to fetch these parameters values in the webservice config page) :
- ID_SHOP and KEYPARAM are fixed parameters for your shop account.
- ID_PAYMENTMETHOD is the ID of the payment method you selected
- ID_DELIVERYMETHOD is the ID of the delivery method you selected
- ID_USER is the ID of the user processing the sale
- You can either put the ID of an existing client, either provide client information
- Then you need to provide the list of items that will be added to the order
- Optionnally you can provide a date (in the unix timestamp format)
Finally in the webservice config page, you will get code example in order to request the webservice written in Java, Php, Node.js, jQuery or curl commandline.
White label
If you want to resale our point of sale solution, it is possible to use the White label feature available in the software.
The way it works is you have to create an account for your client, and then set up in the account that this account is a white label account. You can then sale this account to your user, and you pay us the cost a a licence.
You have to set up the software for your client, and you will receive the emails when they use the contact form, you also have to choose an url in order to access the software.
If your client is using one of the app (phone or tablets), you can lock the app to a shop account so that he can only access the shop account you set up for him.
To configure the domain for the brand, you must configure the DNS entries for the domain name you have chosen to access the cash register for your customer.
You must register a CNAME entry at the root of your domain and on www.yourdomain.ext
These CNAME entries must have the value: enregisteuse.fr
Then, you must enter your domain name in the store's configuration page, in the "White label" tab.
You can subscribe for your client to the plan of your choice (5 € per month or 30 € per month depending on the necessary features), you invoice your client the price you want.
The customer then accesses his checkout by entering the domain name you have chosen for his access.
It is not essential to have a domain name: you can also choose any domain name that ends in .p.enregistreuse.fr (for example perfeito.p.enregistreuse.fr) and in this case all you have to do is choose the desired address in the White label configuration page and the DNS is automatically configured.
إدارة المخزون
إذا كنت ترغب في استخدام إدارة الأسهم في تسجيل النقدية، لديك لتفعيل الخيار في الإعداد، الصفحة العامة OPTIONS.
ثم في صفحة التكوين بالإضافة إلى ذلك، سوف ترى عمود جديد: الكمية.
في هذا المجال كان لديك لتوفير الكمية المتاحة لكم المنتج.
ناقص واحد يعني عدم وجود إدارة كمية لهذا المنتج.
سيتم تنبيهك عندما لا تزال أقل من 3 قطع.


It is possible to enable the stock management for the departments or for the items.
3 different ways of handling stock are available :
- Stock is debited when items are added to an order
- Stock is debited when the order is validated
- Stock is debited when the order is prepared

Packs of items
The option can be enabled in Setup, General options, Orders. When enabled, a new entry will be visible in the Setup page.
Premium licence is required to use this option, because it is quite expensive in terms of server load.
Pack of items feature will let you setup packs that can contain a list of items, discounts or supplements.
Those packs will be presented in a separate department called Packs, and can be associated with barcodes.
When you will add a pack to the order, this will be the same as adding all the items contained in the pack separately.
One limitation is applied to packs contents : fixed price discounts are not supported into packs.
مجموعات من الإدارات
إذا كان لديك الكثير من الإدارات يمكنك تفعيل مجموعة من الإدارات ميزة في صفحة خيارات عامة.
وهذه الميزة تتيح لك تصنيف الإدارات في مجموعات من خلال صفحة إعداد جديدة باسم "مجموعة إدارة".
مرة واحدة وقد تم تشكيل مجموعات من الإدارات، وسوف تكون قادرة على تحديد مجموعة من قسم قبل اختيار إدارة داخل واجهة تسجيل النقدية الرئيسية.
Delivery methods
Different delivery methods can be activated in the software:
- take away sale
- driveThru
- consumption on site
- shipping
- delivery
- at the counter
- drop-off point
The delivery methods are configured on the Config, General options, Orders page.
By activating the option "Mandatory for an order: delivery method", your cashiers must specify when ordering what the delivery method is.
Some delivery methods, when activated, introduce new features into the software.
For example, activating delivery by shipment brings up the shipment management page allowing the printing of shipment tickets ;
On-site consumption allows the use of table management

;
Selling with delivery allows you to activate delivery management

;
Delivery management
When you activate the delivery method "Delivery", new options are presented to you.
Minimum amount for delivery: the minimum amount of the order for delivery to be accepted.
Management of delivery zones: when activated, this option allows you to obtain a new configuration page for "Delivery zones".
Delivery management page:
This page allows your deliverers to have an interface to be able to consult the list of orders awaiting delivery, view the deliveries pending on a map, assign the delivery of an order, launch GPS navigation to the delivery destination, record the receipt of an order upon delivery.

Configuration of delivery zones.
Once activated, you can configure the delivery zones on the Config, Delivery zones page.
A delivery zone is defined by an address and a department.
The address entered is used to define the GPS coordinates of the center of the circle representing the delivery area, in combination with the radius of the delivery area (in kilometers).
When your delivery zones are configured, you will then be able to filter the orders to be delivered according to their delivery zone on the delivery management page.



External delivery people - Sharing delivery people between stores
Activating the "External deliverers" feature will allow you to appear among the stores available on our platform for deliverers.
If you want to share delivery people between several shops, this platform will allow delivery people to access the orders to be delivered from several shops.
The deliverers can then access the site https://www.deliv.shop and fill in the necessary fields to create an account on this platform.
Then they will see the establishments close to their address displayed on a map, taking into account the range of action specified during account creation.
For each establishment, they will need to use an "Apply" button and a message will be sent to the administrators of your store so that they accept the request.
All administrators will receive a notification in the application telling them to go to the Deliverers configuration page in order to accept the request.
In the configuration page of the deliverers, the administrators have the possibility to accept a delivery person's application, to refuse, to revoke the rights of a delivery person, to consult the information communicated by the delivery person, the number of deliveries that he has made .
Once their application is accepted, the delivery person will be able to access the list of orders to be delivered for the establishment, and indicators will be added to the map for each order to be delivered.
The delivery person will thus have a map indicating from which store, and to which customer to deliver pending orders.

ميزات Eatin / إدارة الجدول
يمكنك تفعيل نظام إدارة الجدول في الإعداد، ترتيب الصفحة. مرة واحدة يتم تمكين هذه الميزة، يمكنك الوصول إلى إعداد الصفحة الجداول من أجل إعداد خطة جدول متجرك. تتوفر من أجل رسم خريطة للبنية مكانك نماذج مختلفة من الجداول، الأريكة وقطع من الديكور. لحذف عنصر، اسحبه utside من ناحية العرض، إذا كنت ترغب في تدوير عنصر، انقر على ذلك.
خلال النظام، ويمكن أن البائعين تحديد الخيار Eatin، ومن ثم سيطلب منهم تحديد جدول.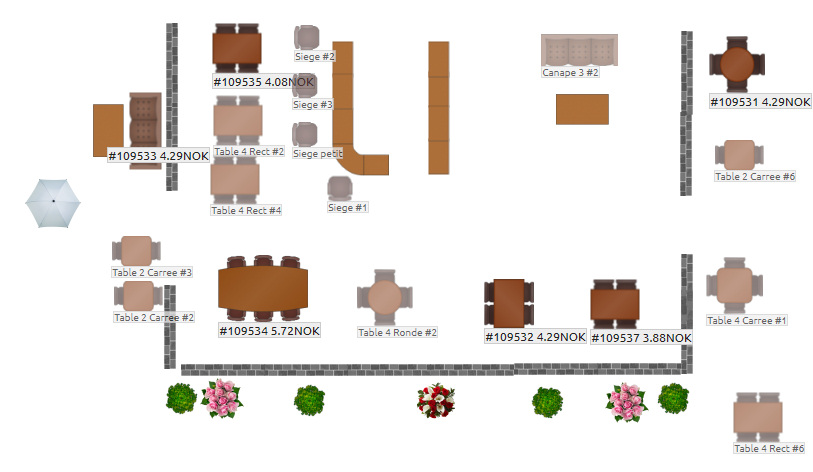 إعداد ترتيب
إذا لا بد من المطبوخة، أو إعداد أوامر الخاص بك، وهذه الميزة تسمح لك لديك صفحة مخصصة لإعداد النظام و.
يمكنك تمكين هذه الميزة في الإعداد، ترتيب الصفحة.
مرة واحدة تنشيط هذا الخيار، يمكنك بعد ذلك الوصول إلى صفحة جديدة في قائمة تسمى "التحضير". في هذه الصفحة يمكنك عرض أوامر الأخيرة، ووضع علامة في البنود عندما يتم إعداد. هذه الصفحة التحديثات تلقائيا، ليست هناك حاجة إلى تحديث. عندما يتم تمكين هذه الميزة، يمكنك منح حق جديد للمستخدمين يسمى "محضر" الذي يتيح الوصول فقط إلى الوظائف المطلوبة.
In the preparation page, you can find validation buttons (green ticks) of two types : item preparation validation, or order preparation validation.
Using the item preparation button will mark the item of the order as prepared, using the order preparation validation button will mark all the items shown as prepared.
The order preparation validation button can be disabled in the options, or it is possible to setup this buttons so that it need to be activated in every preparation place.


Multiple preparation places
You can also setup in the software the number of preparation places you will use. For example, you can have some items (for example : food) of your order prepared in a first place, and the other items (for example : drinks) prepared in another place.


Preparation time
If you use a single preparation place, then the software provides features to manage Preparation times.
Once the option activated, you will be able to provide preparation times for the items you have registered.
When you choose the date of value for the order, you will be shown a timetable, with all the orders registered near the date and time you selected.
This way you can monitor how much time you have to prepare the orders, and select a convenient time when registering the order.
When preparation times are enabled, in the history page, you will also be able to see a new column the total preparation time of the order, and the remaining time to finish the preparation.
Be carefull : preparation times must be typed in seconds.


Pager management
Pagers can be used with the software in order to warn clients when their order have been prepared.
In order to enable pager management in the software, you first need to choose the number of pagers you use in your shop, in Config, Orders setup page.
When enabled, you can then use the action button "Pager num" in order to associate a pager with the current order.
In the preparation page, you will be able to see the list of orders that need to be prepared, and the pager num they are associated with.
When the preparation of an order is complete, you can see the pager number associated with it, and activate it in order to prevent your customer.

نقاط الولاء
إذا كنت تريد أن تعطي للعملاء الخاص بك نقاط الولاء التي يمكن بعد ذلك استخدام كوسيلة من وسائل الدفع، ببساطة تفعيل ميزة نقاط الولاء في صفحة التهيئة العامة.
سيكون لديك ثم لتوفير كمية من النقاط التي أحرزتها مع 1 وحدة من المال، واموت من الأموال التي ستحصل من 1 نقطة ولاء.
وتظهر نقاط الولاء custommer الحالي في الإيصالات
من أجل تفعيل دفع مع نقاط الولاء، لديك لإضافة إجراءات دفع من نوع "Loyaty نقاط الدفع" في صفحة إعداد الإجراءات.

الائتمان وإدارة الديون
As the software is able to store many informations about your customers, it is also possible to associate a debt or a credit to a customer.
Credit management
The principle of credit management is to associate a customer account to an order.
If a customer ask for a refund, you can use the Credit refund action to refund his order on his customer account.
Then the customer can use his credit in order to pay an order.
Debt management
If an order has been associated to a customer, and that order has not been paid, it will be listed in the debts of a client.
When you browse to the Client setup page, you will be able to see a column showing the debt of each customer.
If a client has some debt, you can click the figure to access the list of the orders of that particular customer that have not been paid yet.
In this page, you can proceed to the payment of all the unpaid orders of that customer.
You can also send an email to that client, with the message of your choice, and the recap of the unpaid orders.
Voucher gift management
With this software, you can sell voucher gifts to your customers.
In order to use voucher gifts, you need to add two actions in the Actions setup page : "Create voucher gift", and "Use voucher gift" actions.
The create voucher gift action lets you create a voucher gift. You just need to type in the amout of the voucher gift, and it will be recorded in the database.
The software records the date of the creation of the voucher gift, the client owning this voucher, its amount, and usage state.
The voucher gift will be printed with the receipt.
Then the voucher gift can be used to pay an order by clicking the "Voucher gift payment" button.
You will be prompted to type in the voucher unique ID, or to scan it with a barcode reader in order to use it.
A voucher gift can only be used once and will be refused afterwards, the software can also show you the list of sold voucher gift, and their usage.

Tickets for events
It is possible to automatically print several tickets for an order, for example tickets for a show or an event.
To obtain the automated printing of "event" tickets, you must first activate the management of measurement units for the articles.
This is done on the Config page, General options, Orders, then in the Articles paragraph, activate the option "Activate the use of measurement units for items and departments".
Once you have activated this option, you must go to the items setup page, and modify your items which are of type "Event".
For these items, you must configure the "Place" unit which corresponds to a place for an event (concert, performance, screening, etc.).
When the item is configured as a "Place", it is then automatically printed, in addition to the sales receipt, one receipt per "Place" sold, in addition to the sales receipt.
Note: items for sale which are events should be added for every show.
For example, if you have a show tonight at 10:30 p.m. called "Schreck", you must then add an item entitled "Schreck at mm/dd 10:30 pm", and configure your unit as "Place", in this way the name and time of the show will be correctly displayed on the event tickets.
Please note that the event ticket will only be printed if the order is validated.
Automatic discounts/supplements/items
At first you need to enable the feature in the Setup, General options, Loyalty page of the software.
Then you can set up a list of automatic items/discounts/supplements that will be automatically added at the end of an order if it meets some requirements.
For example : add delevery fees to a delivered order, or a discount for for particular group of clients, or a supplement for specific tables in the restaurant, etc.
Available conditions for setting up automatic items are :
- Delivery method
- Client groups
- Number of ordered items
- Eat in table
- Day of week
- Initial price of items
- Persons on a table
- Operating Point of sale.
You can add several conditions to an automatic action. All the conditions will have to be satisfied for the automatic action to occur.
It is possible to select for a single automatic action one discount/supplement and one item.
The item will be added automatically at the end of the order, and will eventually generate VAT, stock mouvement at validation, if the requirements are satisfied.
The discount will be added after the automatic item, as a subtotal.
Nb : Discount cannot be a Menu type discount.
ميزات التسويق
The marketing features lets you contact a set of customers with customized message.
There are 3 different ways available to contact your clients : by email, by SMS, or by post mail.
You can set up filters in order to select the customers that will received that message, for example "Users that have not been contacted during the last 30 days, belonging to a particular user group, that have already ordered something on a Monday.
In the message, you can use tags that will be replaced by the corresponding value for each customer, for example <Name> <firstName>

Webshop
The webshop can be offered to your customers in different ways:
- on a screen in the entrance of your store so that your customers can record their order themselves - online via an address you choose, as a website
- integrated into your own website as a shopping cart

Sales made in the online shop are recorded in reports and in the Preparation Management page.
When an online order is placed, you are immediately informed by email.
It is possible to modify all the static texts of your online shop, by using an administrator account, via the preview button in the webshop setup page, then by clicking on the text you want to modify.
It is also possible to change the colors used.
It is possible to choose your domain name to access the online store, this is what you communicate to customers.
- either choose a domain name of the type XXXXXX.b.registreuse.fr, just enter an address repecting that structure, the rest being automatically made, and immediate.
- either choose a domain name you own, it is then necessary to edit the CNAME DNS entry of www.my-domain-name.com and my-domain-name.com to assign them the value www.free-cash-register.net

WooCommerce Sync
In order to synchronise you client and items data with WooCommerce, you have to provide in our software an user key.
In your WooCommmerce backoffice, you have to go in the page WooCommerce, Settings, Advanced, REST API.
In this page, you have to add a new user key with read access right.
Then you need to copy and paste the User key, and user secret in the setup page of our software (in the Setup, Orders page).
You also have to provide the URL of you WooCommerce, including https://. Please note that http (unsecured) is not supported.
Once this setup completed, you just have to go to the Items ssetup page, or Clients setup page, and then press the WooCommerce Sync button.


البنود بريستاشوب مزامنة
من أجل أن تكون قادرة على مزامنة قائمة العناصر مع حساب بريستاشوب الخاص بك، فإنك nedd لتوفير مفتاح خدمة ويب واسم المجال من حساب بريستاشوب الخاص بك.
عند تسجيل الدخول باستخدام حساب بريستاشوب الخاص بك، انتقل إلى معايير متقدمة، صفحة خدمة ويب.
في هذه الصفحة، انقر فوق "إضافة جديدة رئيسي" زر.
سيكون لديك لإنشاء مفتاح، نسخ لاستخدامها لاحقا، ثم تحقق من كل حقوق GET.
في السجل النقدي الخاص بك، ببساطة توفير في صفحة إعداد> عناصر، مفتاح API الخاص والمجال الخاص بك PRESTA متجر (مثلا: shop.pswebshop.com).
ثم على زر المزامنة سوف تمكنك من اختيار أي نوع من التعديل الذي تريد استيراده إلى النظام.
Prestashop module
Recording sales made on your Prestashop into our POS software
It is possible in Prestashop to activate a module that will transmit every sale that is made on your Prestashop website into our cash register software. This way you can centralize all your data. First, you need to
install this prestashop module
. Then, in Prestashop backoffice, go to to module manager, choose Add a module and then select the previously downloaded file. Now in the modules list, you can configure the Cash register module. Copy and paste the API key and shop id you can find in the config, webservice page of cash register software into the configuration form of the module.
Shipping
Shipping prices are subject to VAT. The VAT is calculated as the minimum of the different VATs in the order (if not null).
Caller phone number management
Compatible under Windows only, with the modem US Robotics, using our application from the Windows Store.
This feature allows you to open the customer file when they call you on your landline.
The US Robotics modem must be connected to your landline as well as to your Windows computer (USB).
Once your device is connected to the computer, the drivers installed, launch our Windows Store application.
Navigate to the Config, General Options, Hardware page, and activate the option "Using the US Robotics modem" and save.
You should see a message "US Robotics modem detected" indicating that the configuration was successful.
Once this operation is done, when an incoming call arrives on the line, the software detects the caller's number and displays the corresponding customer account in the application.
If no matching customer is found, the application offers to create a new customer account with pre-filled phone number.
NFC بطاقة القراءة
What is a NFC tag ?
NFC tags are numeric signatures installed in most credit cards and in recent phones. Compatible credit cards have an small logo

on the front. In order to check if an element supports NFC, simply approach it next to the reader, it should interact. On Android devices the reader is usually the back of the device. The cash register android application has to be installed in order to activate the interactions.
What can i do with NFC tags ?
With this tags, you can identify your client very quickly, with their credit card, or their phone. Just before the client payment, scan his phone or his credit card, the system will recognize him, you will therefore be able to trace the orders of a client, manage loyalty points, check debts or unpaid orders, ...
Another way to use the NFC tags is to attach the tag to your system account. Then it will be very easy to login on the cash register, just approach your credit card next to your NFC reader, and your logged in !
Requisites
In order to be able to read NFC tags contained in credit cards, in mobile phones, in MiFare cards, you must either :
- have an Android device supporting NFC and you need to install the cash register application
- have a MiFare D-Logic card reader as linked in the shop, with the specific drivers we distribute running as a task (Windows only)
Requisites under Windows
Under Windows, when you µFr D-logic NFC reader is connected to your computer, you then need to start our driver adapter software linked below. This software will run in background while you use the cash register software.
Before buying the hardware ensure this software can open on your system.
Drivers MiFare D-Logic µFr NFC reader
Drivers for ACR122U card reader
How the software handles it ?
If you are in a form of a client creation/modification, then the scanned NFC tag will be attached to this client.
During an order, if you scan an unknown NFC tag, you will have the choice to attach it to the current user or to the customer currently attached to current order.
If you scan the tag of a registered customer, then this customer will be attached to the current order.
تسجيل أوامر مع لوحة المفاتيح على جهاز كمبيوتر
تتوفر للسماح لك لإدخال الأوامر بشكل أسرع على جهاز كمبيوتر اختصارات لوحة المفاتيح مختلفة.
يمكنك إدخال كمية أو إجراء بسيط لopértations باستخدام لوحة المفاتيح الرقمية (0-9) ومفتاح + (الجمع) ومفتاح * (الضرب).
استخدام لوحة المفاتيح، يمكنك إدخال اسم مقالك، واضغط على مفتاح "Enter" لتحديد العنصر الأول الذي يحتوي على اسم كتبته.
F1 إلى F12 مفاتيح تتيح لك اختيار طريقة الدفع، والنظام هو نفس العرض على لوحة المفاتيح.
استخدام "الهروب" أو مفتاح "زر لإعادة الكتابة" لمحاكاة الضغط على زر ESC.
مفتاح الفضاء يحكي النظام الذي ستعمل مسح الباركود أو كتابة رقم البند أو أيضا اسم عنصر.
الباركود
من أجل استخدام الكشف الباركود على برنامج تسجيل النقدية، تحتاج إلى التخلص من أي كاميرا ويب، وجهاز مع كاميرا (لوحة اللمس، ...)، أو قارئ الباركود الليزر pluged أنه في.
كيفية تفعيل وظيفة
من أجل تنشيط وظيفة الباركود القراءة، عليك أن تذهب إلى صفحة الإعداد، ثم العام OPTIONS، ثم حدد الخيار "قراءة الباركود".
تفعيل الكاميرا (PC، ماك)
على جهاز كمبيوتر، يتم استخدام فلاش لاعب للوصول إلى الكاميرا. ثم كنت بحاجة لفلاش المثبتة على المتصفح الخاص بك. ثم عندما checkeing الخيار الباركود في صفحة الإعداد، يجب عليك التحقق يظهر بشكل صحيح في النافذة المنبثقة التي تظهر إذا كنت كاميرا ويب. لن يتم حفظ خيار التكوين هذا الجهاز الحالي ..
تفعيل الروبوت (الهاتف، لوحة اللمس، ...)
من أجل استخدام الكاميرا لوحة اللمس لديك لقراءة الباركود، تحتاج أولا إلى تثبيت أحدث تطبيق الروبوت من تسجيلات النقدية.
ليزر الباركود القراءة (PC، ماك)
من أجل استخدام جهاز ليزر قارئ الباركود، وكنت في حاجة إلى سد إما في USB أو PS / وضع 2 إلى جهاز الكمبيوتر الخاص بك كما هو موضح في دليل التكوين للقارئ.
صيغ الباركود المعترف بها
شكل الباركود ازتيك 2D
شكل CODABAR 1D
شكل الباركود رمز الاستجابة السريعة 2D
شكل الباركود 2D DATAMATRIX
UPC-E شكل 1D
UPC-A شكل 1D
UPC / EAN شكل (امتدادا)
شكل EAN-8 1D
شكل EAN-13 1D
قانون 128 شكل 1D
قانون 93 شكل 1D
قانون 39 شكل 1D
الاتحاد الدولي للتنس (معشق اثنان من خمسة) شكل 1D
شكل PDF417
RSS 14
RSS الموسع
MAXICODE
إعداد البنود
الإعداد الباركود
أول شيء عليك القيام به هو تسجيل الباركود تستخدمه في المحل الخاص بك. من أجل ذلك كان لديك للذهاب إلى الإعداد، PLUS صفحة التكوين.
إضافة بند جديد مع الباركود
ببساطة مسح الباركود الجديد في حين يجري في صفحة الإعداد، وسوف يطلب منك إدخال التفاصيل الأخرى اللازمة.
إعداد أو تعديل الباركود لعنصر موجود
إذا كنت ترغب في modifiy إلى الباركود المرتبطة من تيم، فقط انقر فوق العمود الباركود على الخط في هذا البند، ثم مسح الباركود.
البحث عنصر مع الباركود
إذا كنت ترغب في بحث بند من أجل تحريره، يمكنك ببساطة مسح الباركود لها.
قراءة الباركود لتجهيز النظام
الباركود
عندما يتم الانتهاء من إعداد الباركود يمكنك الآن البدء في استخدام الباركود للكشف عن المنتج.
اذهبوا إلى صفحة لوحة المفاتيح والبدء في مسح الباركود.
أفضل طريقة للتلاعب
في البداية كان من الصعب جدا أن تكون فعالة مع القراءة كاميرا الباركود، ولكن مع بعض قليل من التدريب، ويحسن كثيرا. عليك أن تتذكر أنه مع أجهزة الكاميرا لديك لوضع الباركود على اتجاه جيد (أفقيا)، وليس قريبة جدا من الآسر (10 سم) ويمكن أن لا تزال تعمل بعيدة تماما (يكشف المربعات البيضاء). كشف يعمل بشكل أفضل تحت ضوء جيد.
على تطبيق الروبوت، استخدم أزرار الصوت قد يكون لديك على جهازك لتشغيل أو إيقاف مسح الباركود. عقد الكائن ثابتة، وإلا طمس الصورة، وسوف الكشف لا تعمل. عندما تم الكشف عن الباركود، يجب أن جهاز يهتز واللعب قليلا الصوت (فقط صوت على الكمبيوتر).
اليدوية الباركود الطباعة
إذا كنت لا يمكن أن ينجح في الحصول على الباركود parcicular أن تقرأ، لا يزال بإمكانك كتابة في عدد من قانون نقابة المحامين: الأول الزر اضغط مسافة ثم اكتب في الباركود. في أقرب وقت الباركود واحد فقط مباريات ما قمت بإدخاله، ولعب الصوت.
الباركود الاختبار
إذا كنت ترغب فقط في اختبار الباركود قبل الإنتاج، يمكنك طباعة الرمز أدناه: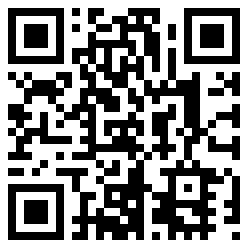 الإعادة تاريخ المبيعات تسجيل النقدية ل
إذا كنت تمارس مع تسجيل النقدية، وتريد تماما إعادة تعيين تاريخ المبيعات، يمكنك أن تنتقل إلى الإعداد> صفحة خيارات عامة، ثم انقر فوق الزر "إعادة تعيين تاريخ المبيعات".
وهذا الإجراء إلى حذف بشكل دائم كل عملية بيع تتم مع تسجيل النقدية، ولكن يكون متأن: ليس هناك تراجع الممكنة.
من نحن ؟
تسجيل النقدية هو تطبيق المتقدمه الصافية للجمعية SAS.
والغرض من هذا التطبيق هو لمساعدة المشاريع التجارية الصغيرة التي تنمو من دون أي استثمارات. ونحن نعلم جميعا كم هو مهم أن تكون ساعدت في بداية النشاط.


هل تكون بياناتي آمنة؟
يتم تخزين البيانات في مراكز البيانات الآمنة مع توافر عالية.
ونحن لن نقل البيانات إلى الثلث.
ونحن لن تستخدم البيانات الخاصة بك على غرض تجاري.
ولكن: هذه هي مسؤوليتكم لتحميل الصادرات
نحن لسنا مسؤولين عن أي فقدان للبيانات، أو انقطاع الخدمة، والبيانات هي مسؤوليتكم.
لا تذهب من خلال خدمتنا المدفوعات باي بال. نحن فقط لنقل اموت التي تحتاج إلى أن تدفع إلى حساب باي بال الخاص بك، وباي بال يعتني الأمن. نحن لا نريد لتخزين تفاصيل الدفع الخاصة بك، نحن نحتاج فقط إلى عنوان باي بال الذي يحصل على الدفع.
يتم توفير الأمن دفع بالكامل من قبل باي بال.




1. Account Terms
You must be 18 years or older or at least the age of majority in the jurisdiction where you reside or from which you use this Service.
To access and use the Services, you must register for a Free cash register account by providing your email address, the name of your shop, and your tax identification details.
You acknowledge that Free cash register will use the email address you provide as the primary method for communication.
You are responsible for keeping your password secure. Free cash register cannot and will not be liable for any loss or damage from your failure to maintain the security of your Account and password.
You are responsible for all activity and content such as data, graphics, photos and links that is uploaded under your Free cash register Account. You must not transmit any worms or viruses or any code of a destructive nature.
A breach or violation of any term in the Terms of Service as determined in the sole discretion of Free cash register will result in an immediate termination of your services.
Which means
Don't use Free cash register for anything illegal or transmit any harmful code. Remember that with any violation of these terms we will cancel your service.
If we need to reach you, we will send you an email.
2. Account Activation
Subject to section 2.2, the person signing up for the Service will be the contracting party ("Account Owner") for the purposes of our Terms of Service and will be the person who is authorized to use any corresponding account we may provide to the Account Owner in connection with the Service.
If you are signing up for the Service on behalf of your employer, your employer shall be the Account Owner. If you are signing up for the Service on behalf of your employer, then you represent and warrant that you have the authority to bind your employer to our Terms of Service.
Which means
The person signing up for the Free cash register Service is responsible for the account and is bound by these Terms of Service. If you signup on behalf of your employer, your employer owns the account and is also bound by our Terms of Service.
3. General Conditions
You must read, agree with and accept all of the terms and conditions contained in these Terms of Service and the Privacy Policy before you may become a member of Free cash register.
Technical support is only provided to paying Account holders and is only available via email.
The Terms of Service shall be governed by and interpreted in accordance with the laws of the France, without regard to principles of conflicts of laws. The parties irrevocably and unconditionally submit to the exclusive jurisdiction of the courts of Paris with respect to any dispute or claim arising out of or in connection with the Terms of Service.
You acknowledge and agree that Free cash register may amend these Terms of Service at any time by posting the relevant amended and restated Terms of Service on Free cash register's website and such amendments to the Terms of Service are effective as of the date of posting. Your continued use of the Services after the amended Terms of Service are posted to Free cash register's website constitutes your agreement to, and acceptance of, the amended Terms of Service. If you do not agree to any changes to the Terms of Service, do not continue to use the Service.
You may not use the Free cash register service for any illegal or unauthorized purpose nor may you, in the use of the Service, violate any laws in your jurisdiction (including but not limited to copyright laws).
You agree not to reproduce, duplicate, copy, sell, resell or exploit any portion of the Service, use of the Service, or access to the Service without the express written permission by Free cash register.
You shall not purchase search engine or other pay per click keywords (such as Google AdWords), or domain names that use Free cash register or Free cash register trademarks and/or variations and misspellings thereof
Questions about the Terms of Service should be sent to the support team.
You understand that your Store Content (not including credit card information), may be transferred unencrypted and involve (a) transmissions over various networks; and (b) changes to conform and adapt to technical requirements of connecting networks or devices. Credit Card information is always encrypted during transfer over networks.
You acknowledge and agree that your use of the Service, including information transmitted to or stored by Free cash register, is governed by its privacy policy in privacy section.
The parties have required that the Terms of Service and all documents relating thereto be drawn up in English. Les parties ont demandé que cette convention ainsi que tous les documents que s'y rattachent soient rédigés en anglais.
Which means
The Free cash register service belongs to us. You are not allowed to rip it off or use it for any illegal or sketchy purpose.
If a dispute arises the issue will be dealt with in France.
Your content may be transferred unencrypted and may be altered, but credit card information is always encrypted.
4. Free cash register Rights
We reserve the right to modify or terminate the Service for any reason, without notice at any time.
We reserve the right to refuse service to anyone for any reason at any time.
We may, but have no obligation to, remove Store Content and Accounts containing content that we determine in our sole discretion are unlawful, offensive, threatening, libelous, defamatory, pornographic, obscene or otherwise objectionable or violates any party's intellectual property or these Terms of Service.
Verbal or written abuse of any kind (including threats of abuse or retribution) of any Free cash register customer, Free cash register employee, member, or officer will result in immediate Account termination.
We reserve the right to provide our services to your competitors and make no promise of exclusivity in any particular market segment. You further acknowledge and agree that Free cash register employees and contractors may also be Free cash register customers/merchants and that they may compete with you, although they may not use your confidential information in doing so.
In the event of a dispute regarding Account ownership, we reserve the right to request documentation to determine or confirm Account ownership. Documentation may include, but is not limited to, a scanned copy of your business license, government issued photo ID, the last four digits of the credit card on file, etc.
Free cash register retains the right to determine, in our sole judgment, rightful Account ownership and transfer an Account to the rightful owner. If we are unable to reasonably determine the rightful Account owner, Free cash register reserves the right to temporarily disable an Account until resolution has been determined between the disputing parties.
Which means
We can modify, cancel or refuse the service at anytime.
In the event of an ownership dispute over a Free cash register account, we can freeze the account or transfer it to the rightful owner.
5. Limitation of Liability
You expressly understand and agree that Free cash register shall not be liable for any direct, indirect, incidental, special, consequential or exemplary damages, including but not limited to, damages for loss of profits, goodwill, use, data or other intangible losses resulting from the use of or inability to use the service.
In no event shall Free cash register or our suppliers be liable for lost profits or any special, incidental or consequential damages arising out of or in connection with our site, our services or these Terms of Service (however arising including negligence). You agree to indemnify and hold us and (as applicable) our parent, subsidiaries, affiliates, Free cash register partners, officers, directors, agents, and employees, harmless from any claim or demand, including reasonable attorneys' fees, made by any third party due to or arising out of your breach of these Terms of Service or the documents it incorporates by reference, or your violation of any law or the rights of a third party.
Your use of the Service is at your sole risk. The Service is provided on an "as is" and "as available" basis without any warranty or condition, express, implied or statutory.
Free cash register does not warrant that the Service will be uninterrupted, timely, secure, or error-free.
Free cash register does not warrant that the results that may be obtained from the use of the Service will be accurate or reliable.
Free cash register does not warrant that the quality of any products, services, information, or other material purchased or obtained by you through the Service will meet your expectations, or that any errors in the Service will be corrected.
Which means
We are not responsible if you break the law, breach this agreement or go against the rights of a third party, especially if you get sued.
Service is "as is" so it may have errors or interruptions and we provide no warranties.
6. Waiver and Complete Agreement
The failure of Free cash register to exercise or enforce any right or provision of the Terms of Service shall not constitute a waiver of such right or provision. The Terms of Service constitutes the entire agreement between you and Free cash register and govern your use of the Service, superseding any prior agreements between you and Free cash register (including, but not limited to, any prior versions of the Terms of Service).
Which means
If Free cash register chooses not to enforce any of these provisions at any time, it does not mean that they give up that right later.
These terms of service make up the agreement that applies to you. This means that any previous agreements between you and Free cash register don't apply if they conflict with these terms.
7. Intellectual Property and Customer Content
We do not claim any intellectual property rights over the material you provide to the Free cash register service. All material you upload remains yours. You can remove your Free cash register store at any time by deleting your Account.
By uploading Store Content, you agree: (a) to allow other internet users to view your Store Content; (b) to allow Free cash register to display and store your Store Content; and (c) that Free cash register can, at any time, review all the Store Content submitted by you to its Service.
You retain ownership over all Store Content that you upload to a Free cash register store; however, by making your store public, you agree to allow others to view your Store Content. You are responsible for compliance of Store Content with any applicable laws or regulations.
We will not disclose your confidential information to third parties, except as required in the course of providing our services. Confidential information includes any materials or information provided by you to us which is not publicly known. Confidential information does not include information that: (a) was in the public domain at the time we received it; (b) comes into the public domain after we received it through no fault of ours; (c) we received from someone other than you without breach of our or their confidentiality obligations; or (d) we are required by law to disclose.
Free cash register shall have the non-exclusive right and license to use the names, trademarks, service marks and logos associated with your store to promote the Service.
Which means
Anything you upload remains yours and your responsibility.
8. Payment of Fees
A valid credit card or a paypal account is required for the subscription of a premium account.
All fees are exclusive of applicable federal, provincial, state, local or other governmental sales, goods and services, harmonized or other taxes, fees or charges now in force or enacted in the future ("Taxes").
You are responsible for all applicable Taxes that arise from or as a result of your subscription to or purchase of Free cash register's products and services.
Free cash register does not provide refunds.
Which means
Tax is not included. No refunds.
9. Cancellation and Termination
You may cancel your Account at anytime by using the button in your account page.
Upon termination of the Services by either party for any reason:
Free cash register will cease providing you with the Services and you will no longer be able to access your Account;
unless otherwise provided in the Terms of Service, you will not be entitled to any refunds of any fees, pro rata or otherwise;
any outstanding balance owed to Free cash register for your use of the Services through the effective date of such termination will immediately become due and payable in full; and
your store website will be taken offline.
We will never modify or terminate the Free cash register Service or your Account for any reason, without notice at any time.
Fraud: Without limiting any other remedies, Free cash register may suspend an Account if we suspect that you (by conviction, settlement, insurance or escrow investigation, or otherwise) have engaged in fraudulent activity in connection with the Site.
Which means
To initiate a cancellation, please use the button on your account page, or contact the support. Free cash register will respond with specific information regarding the cancellation process for your account.
Any fraud and we will suspend or cancel your account.
10. Modifications to the Service and Prices
Prices for using the Services are subject to change upon 30 days notice from Free cash register. Such notice may be provided at any time by posting the changes to the Free cash register Site (Free cash register.com) or the administration menu of your Free cash register store via an announcement.
Free cash register reserves the right at any time, and from time to time, to modify or discontinue, the Service (or any part thereof) with or without notice.
Free cash register shall not be liable to you or to any third party for any modification, price change, suspension or discontinuance of the Service.
Which means
We may change or discontinue the service at anytime, without liability.
11. Third Party Services
In addition to these Terms of Service, you also agree to be bound by the additional service-specific terms applicable to services you purchase from, or that are provided by, Free cash register's partners or other third parties.
Free cash register may from time to time recommend, provide you with access to, or enable third party software, applications ("Apps"), products, services or website links (collectively, "Third Party Services") for your consideration or use, including via the Free cash register App Store. Such Third Party Services are made available only as a convenience, and your purchase, access or use of any such Third Party Services is solely between you and the applicable third party services provider ("Third Party Provider"). Any use by you of Third Party Services offered through the Services or Free cash register's website is entirely at your own risk and discretion, and it is your responsibility to read the terms and conditions and/or privacy policies applicable to such Third Party Services before using them.
We do not provide any warranties with respect to Third Party Services. You acknowledge that Free cash register has no control over Third Party Services, and shall not be responsible or liable to anyone for such Third Party Services. The availability of Third Party Services on Free cash register's websites, including the Free cash register App Store, or the integration or enabling of such Third Party Services with the Services does not constitute or imply an endorsement, authorization, sponsorship, or affiliation by or with Free cash register. Free cash register strongly recommends that you seek specialist advice before using or relying on Third Party Services, to ensure they will meet your needs. In particular, tax calculators should be used for reference only and not as a substitute for independent tax advice when assessing the correct tax rates you should charge to your customers.
If you install or enable a Third Party Service for use with the Services, you grant us permission to allow the applicable Third Party Provider to access your data and to take any other actions as required for the interoperation of the Third Party Service with the Services, and any exchange of data or other interaction between you and the Third Party Provider is solely between you and such Third Party Provider. Free cash register is not responsible for any disclosure, modification or deletion of your data or Store Content, or for any corresponding losses or damages you may suffer, as a result of access by a Third Party Service or a Third Party Provider to your data or Store Content.
Under no circumstances shall Free cash register be liable for any direct, indirect, incidental, special, consequential, punitive, extraordinary, exemplary or other damages whatsoever, that result from any Third Party Services or your contractual relationship with any Third Party Provider, including any Expert. These limitations shall apply even if Free cash register has been advised of the possibility of such damages. The foregoing limitations shall apply to the fullest extent permitted by applicable law.
Which means
We are not responsible for third party services so use them at your own risk. If you use any third party services on the Free cash register platform, you permit us to send your data to those services. If you use them you agree that we do not provide a warranty, so get advice beforehand.
12. DMCA Notice and Takedown Procedure
Free cash register supports the protection of intellectual property and asks Free cash register merchants to do the same. It's our policy to respond to all notices of alleged copyright infringement. If someone believes that one of our merchants is infringing their intellectual property rights, they can send a DMCA Notice to Free cash register's designated agent using our form. Upon receiving a DMCA Notice, we may remove or disable access to the material claimed to be a copyright infringement. Once provided with a notice of takedown, the merchant can reply with a counter notification using our form if they object to the complaint. The original complainant has 14 business days after we receive a counter notification to seek a court order restraining the merchant from engaging in the infringing activity, otherwise we restore the material.
Which means
Free cash register respects intellectual property rights and you should too. If we receive a DMCA Notice, we may disable access or remove the allegedly infringing content from your website. If you don't think the claim is valid, you can proceed with a counter notification.
If you believe one of our merchants is infringing your intellectual property rights, you can send Free cash register a DMCA Notice. We will expeditiously disable access or remove the content and notify the merchant. Be advised that we post all notices we receive.
Net-assembly SASU.
101, rue de Sèvres lot 1665
75272 Paris Cedex 6
France
Free features and options prices
Free usage of cash register software
It is possible to use this software free of charge in an unlimited way.
Different user licenses, optional, are not free in this software.


Standard licence at 5€ a month
- disappearance of the advertising mention for our software on the documents issued by the software (receipt, invoices, notifications, online store ...)
- customization of the logo on invoices
- disappearance pop-up reminder of other licenses
- buying price management
- customer groups management
- your data is archived after 3 years
- image storage up to 600x600px
Extended licence at 30€ a month
- every benefit of the standard licence
- importing and exporting CSV and XLS data
- PDF monthly reports
- clients debts reports
- packs of items management
- automatic discount management
- webservices
- technical assistance via the online dedicated interface and by email
- your data is archived after 5 years
- items variations management
- suppliers management
- stock orders management
- image storage up to 1200x1200px